The level of hypocrisy of Democrats who are out to crucify President Trump over his alleged, but never substantiated, collusion with Russia has risen to epic proportions.
There are Democrats who have had some dealings with Russia and its ambassador. Even though they try and deny it, their past always comes back to haunt them.
Senator Claire McCaskill (D-MO) was one of them who finally had to admit that she had met with Russian Ambassador Sergey Kislyak twice, after previously denying it. Not only that, her private family foundation had donated $1,000 to a Russian foundation that Kislyak serves as the honorary chairman of.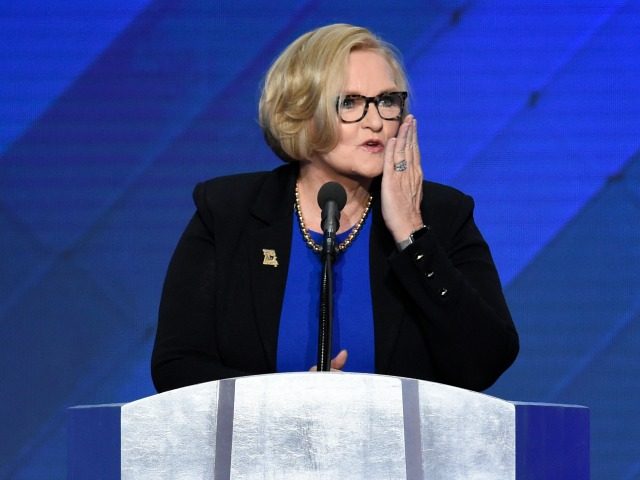 Breitbart revealed:
Senator Claire McCaskill (D-MO) admitted Tuesday that she, her husband, and their private family foundation donated a total of $1,000 to the American-Russian Cultural Cooperation Foundation, on whose board of directors Russian ambassador Sergey Kislyak serves as honorary chairman.
McCaskill had denied in a Tweet ever meeting the Russian ambassador but some of her earlier Tweets proved otherwise:
Previously, McCaskill had claimed she had never met the Russian ambassador. In March, Breitbart News reported that "Claire McCaskill (D-Mo) sent out a misleading Tweet on Thursday claiming that she had never, 'ever' met or spoken with Russian Ambassador Sergey Kislyak, while previous Tweets showed she met and spoke to the Russian official in 2013 and again in 2015."
"I've been on the Armed Services Committee for 10 years. No call or meeting with Russian ambassador. Ever. Ambassadors call members of the Foreign Res Com," McCaskill tweeted on Thursday.
Almost immediately following her Tweet, McCaskill's past Tweets contradicted her claim, including two retweeted by National Review Online Editor Charles C. W. Cooke showing a Tweet in 2013 and another in 2015 that said the senator spoke and met with Kislyak.
On Jan. 30, 2013 McCaskill tweeted "Off to meeting w/Russian Ambassador. Upset about the arbitrary/cruel decision to end all US adoptions, event those in process."
On Aug. 6, 2015 McCaskill tweeted "Today calls with British, Russian and German Ambassadors re: Iran deal. #doingmyhomework.
McCaskill "admitted on Twitter that she and "many senators" had met with the ambassador four years ago to discuss the U.S. halt to adopting Russian children,":
"Again, as a senior member of the Armed See, never received call or request from Russian Ambassador for meeting. Never met one-on-one w/him," McCaskill tweeted.
When asked by Breitbart News why she claimed she had never met or spoken with the Russian ambassador when her Tweets showed otherwise, McCaskill's communication director defended her by saying she had not met "one-on-one" with him. . .
"Claire has never met one-on-one with the ambassador, and never received a call from him," LaBombard said. "She did attend a group meeting about adoptions with other senators, and had a brief proactive call with the ambassador amid calls to several other parties to the Iran nuclear deal.
Whenever these slimeball politicians are asked point blank about their involvement in controversial situations, their first response is to deny, deny, deny. Then when presented with the evidence that they lied, it's evade, evade, evade.
Whatever happened to the truth?
Source: Breitbart