Remember when Congress members used to represent wisdom, dignity, poise, and intellect? Remember how when you heard the term "senator" or "US representative," you thought to yourself, "Now there's a guy/gal who has our best interests in mind!"
It's not that long ago when you could point to a person who worked in the Capitol and feel thrilled that this person represented your State and your home. It was exciting that these people grew up on your home soil and were now attempting to help the State in ways that few could. They would arrive in the vaunted halls of Congress, lay down their hands on those Bibles, and swear a oath to uphold the good laws of the land with all their hearts!
Until the Leftists took over the Democrats and turned them into the Party of the Jackass, willing to eat a can of worms if that's what it took to get in front of a news camera or to speak into a microphone. Enter US Representative Luis Gutierrez! You remember him, right? He was the one last month who called on everyone to resist the president and even break the law if need be to go against him? Well, apparently, he's taken his own advice as he was arrested this week!
The Daily Caller:
Democratic Rep. Luis Gutierrez of Illinois was arrested along with roughly 30 fellow protesters outside the White House during a gathering commemorating the fifth anniversary of the Deferred Action for Childhood Arrivals (DACA) program.
The protesters were arrested for sitting on the sidewalk outside the White House after attending a rally in Lafayette Square across the street, according to The Hill. Gutierrez, a well-known immigration advocate, defended the protest shortly before his arrest.
"The same values that I inculcated in my daughters, that my wife and I raised them, [Dreamers] are an example and exemplify them. Their dreams are just like my kids' dreams," Gutiérrez told The Hill shortly before his arrest.
The protest comes as the DACA program faces a potential legal challenge from a coalition of 10 states led by Texas Attorney General Ken Paxton, who have vowed to mount a legal challenge if President Donald Trump does not rescind the law by September 5. Nearly 800,000 people brought to the country illegally as children have been granted legal status under the law.
This is not Gutierrez's first brush with the law. He has been arrested three times previously for protesting, including two arrests outside the White House in 2010 and 2011 in immigration-related rallies.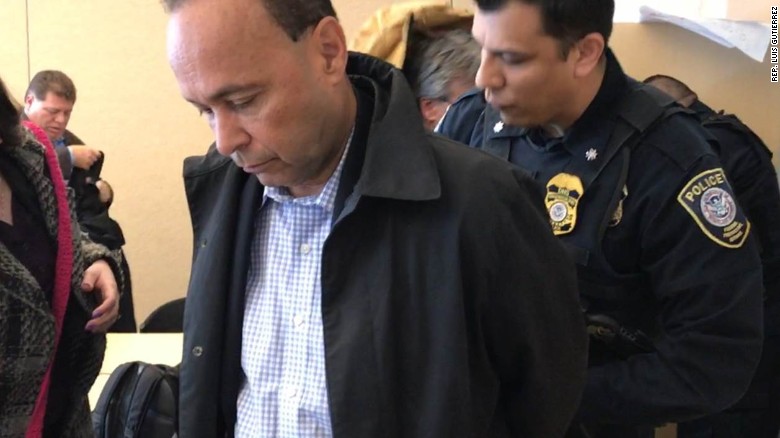 Gutierrez is a shameless race hustler, as bad, if not worse than Al Sharpton (and that's saying a lot!) It's one thing to be a person who is attempting to make a point through measured words and thoughtful speeches, but when you debase yourself to the level of committing crime in order to get your point across, it's really then a matter of whether or not you should be an elected official.
For someone who is being paid a healthy $230K+ annually, you would think that he'd have a bit more class and wherewithal than this. As it is, about the only thing this man does have in excess is money and a big mouth.
Source: The Daily Caller