For months we've heard the word collusion emanating from the lips of every liberal with an opinion, and it was always in reference to an alleged Trump/Putin tag team to influence the 2016 election in Trump's favor.
But there appears to have been another kind of collision involving individuals under former President Obama's administration, who colluded for a different purpose.
When a Muslim immigrant named Mohammad Youssef Abdulazeez murdered four US military service members at two recruiting centers in Chattanooga, Tennessee in July 2015, former FBI Director James Comey downplayed the crime by feigning ignorance as to the motives for him committing the heinous act. Clearly, there was collusion between Comey and Obama to keep this story under wraps.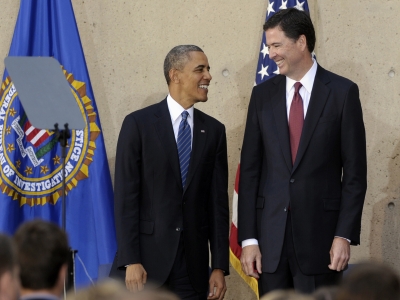 From Gateway Pundit:
 In July 2015 Islamist Mohammad Youssef Abdulazeez shot up two military offices in Chattanooga leaving four U.S. Marines dead.
The killer traveled to Jordan for several months the year before the mass shooting of the unarmed military recruiter's office.
From WSMV:
The public may never know what motivated a 24-year-old Chattanooga man to kill four Marines and a sailor in an attack on Chattanooga's U.S. Naval and Marine Reserve Center last July.
Investigators have said Muhammad Youssef Abdulazeez was a homegrown violent extremist but have not offered more details about what motivated the attack that began at a military recruiting center and ended when Abdulazeez was shot to death by police who followed him to the reserve center.
"We're still trying to make sure we understand Abdulazeez, his motivations, and associations, in a really good way," FBI Director James Comey told reporters during a visit to Nashville's FBI field office on Friday.
Comey said he understands the public interest in the shooting, but he did not know whether there would ever be a public report on it.
"Sometimes the way we investigate requires us to keep information secret. That's a good thing. We don't want to smear people," he said.
We can surmise that Abdulazeez was radicalized during one of his trips to the Middle East in either Jordan, Kuwait, or possibly Yemen.
It is noteworthy that Abdulazeez immigrated to America as a child and grew up with all the advantages that any other American middle-class kid has. So, the argument that Muslims become radicalized because of poverty or social conditions simply won't fly in this situation.
He became radicalized by his exposure to other radicals, plain and simple. It is Islam itself that is to blame and Obama and his lackey, James Comey hid that fact!
Source: Gateway Pundit