James Comey has a spine made out of…well…jello.
In a desperate attempt to please everybody, from his former bosses Loretta Lynch and Barack Obama, Hillary Clinton, and even to Americans, he has done nothing but tick everyone off.
So during the Senate Judiciary hearing yesterday, when Senator Grassley pressed hard about Comey's involvement in a dossier aimed at Trump, as well as Comey's "material inconsistencies," our FBI Director melted into a puddle by refusing to answer questions in a public setting, and only offered to answer questions privately. 
From Breitbart:
During yesterday's Senate Judiciary Committee hearing on FBI oversight, FBI Director James B. Comey repeatedly refused to answer questions about his agency's ties to the controversial, partially discredited 35-page dossier alleging collusion between Russia and Donald Trump's presidential campaign.
The dossier reportedly served as the FBI's justification for seeking court approval to clandestinely monitor Carter Page, who has been identified as a foreign policy adviser to Donald Trump.
In March, the BBC reported the document also served as a "roadmap" for the FBI's investigation into claims of coordination between Moscow and members of Trump's presidential campaign.
The document was drafted by former British intelligence officer Christopher Steele, who worked for a firm that was reportedly paid by Democrats and anti-Trump Republicans to investigate Trump.
The line of questioning about the dossier came in exchanges between Comey and Senate Judiciary Chairman Chuck Grassley.
In one case, Grassley referred to a letter that he sent to the FBI on March 6, requesting information and documents about the FBI's ties to Steele, including whether the agency utilized Steele for its investigation into Trump and whether the FBI paid Steele or intended to pay him.
At the hearing yesterday, Grassley referred to his letter and pointed out that "most of these questions have not been answered, so I'm going to ask them now."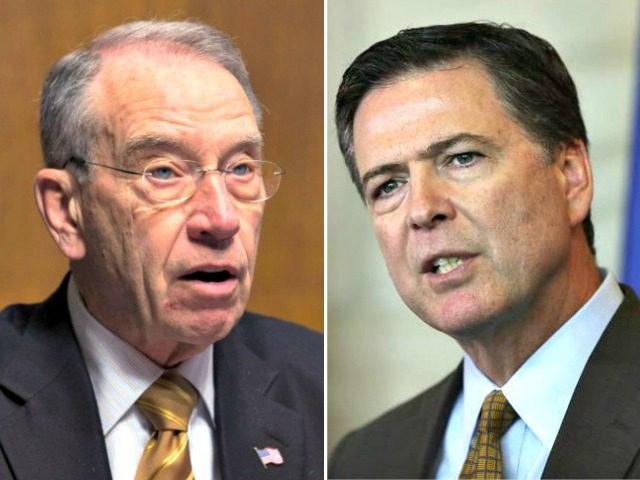 He continued: "Prior to the Bureau launching the investigation of alleged ties between the Trump campaign and Russia, did anyone from the FBI have interactions with Mr. Steele regarding the issue?"
Comey replied, "That's not a question that I can answer in this forum. As you know, I briefed you privately on this and if there's more that's necessary then I'd be happy to do it privately."
Wow. Are you as impressed as I am with our FBI Director? Hopefully not! This guy is begging for a firing.
At one point, Comey did say that he would address some of Grassley's concerns about the dossier "in a classified setting."
That exchange went thusly:
GRASSLEY: The FBI and the Justice Department have provided me material inconsistent answers in closed setting about its reported relationship with Mr. Steele, will you commit to fully answering the questions from my March 6 and April 28 letter and providing all requested documents so that we can resolve those inconsistencies, even if in a closed session, being necessary?
COMEY: Because as I sit here I don't know all the questions that are in the letters. I don't want to answer that specifically. But I commit to you to giving you all the information you need to address just that challenge, because I don't believe there's any inconsistency. I think there's a misunderstanding but in a classified setting I'll give you what you need.
Dodging questions, refusing to speak publicly. This man needs to speak the truth and then be released from his job. Do you agree? Comment below!
Source: Breitbart