Usually, a visit to the cemetery is marked with mourners at the funeral of the latest person to be interred in the serene place of final rest.
Alongside that, you will find visitors laying flowers in honor of their long deceased family members. But what two men were doing to certain gravesites had onlookers curious and concerned.
Recently, visitors to a cemetery in Phoenix, Arizona were surprised when they saw what two people were doing to the grave markers of America's fallen war heroes. They were showing respect by cleaning and polishing them to restore the shine the veteran's memorials had when they were new!
Mad World News explains:
After several people saw two people lingering near a veteran's grave site in a cemetery in Phoenix, Arizona, they knew something was going on. However, when they took a closer look, they were left completely stunned by what they had unintentionally caught the pair doing.
The unlikely duo, consisting of Tom Pawlak, who happens to be a baby boomer, and Levi Brown, a young teen, have quite the peculiar relationship. When people started noticing them lingering at Greenwood Cemetery, they were left stunned by what they were actual up to – showing respect to our fallen heroes in an incredible way.
The pair shares a rare, but beautiful, passion for "restoring veteran's memorial markers," according to KSAZ. They spend their free time together, removing years of tarnish and neglect from the gravestones and making them shine once again.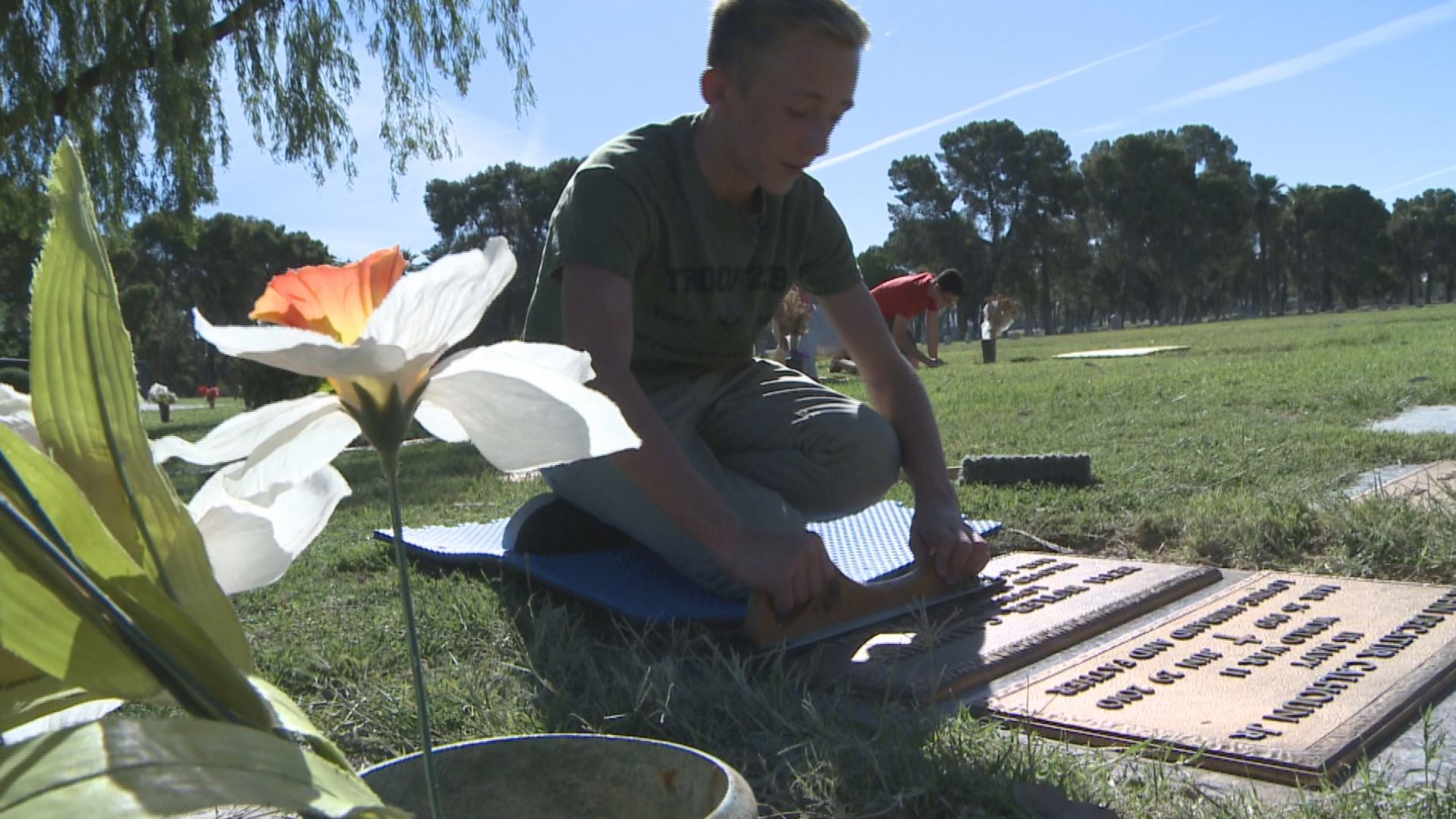 Of course, Pawlak has been doing this for years, as a member of the Honor and Remember Program. Sadly, he began his passion after he had lost one of his friends and explains that it never gets any easier emotionally. "It chokes you up every time and my buddy died 50 years ago, and still, whenever I start giving a talk and explain, 'My buddy Ken,' you just can't talk," said Pawlak.
Brown, who's just 13 years old, initially started restoring the markers as an Eagle Scout Project after he was inspired by Pawlak. Initially, he gathered a team to polish and restore around 250 bronze veteran grave markers. "Before there was hard water stains and other stains from mother nature destroying it and by shining these up and polishing them, it will keep them preserved for longer and look nicer," Brown explained, according to KPNX. "I was trying to time it up with Memorial Day. That way when they have their big ceremony out here for Memorial Day they can see all of these," he added.
"I thought I dreamed big but look at what he's doing," Pawlak said. "It's guys like that that are going to be around to take over. I'm 65 and not going to be around forever."
Whenever someone takes it upon themselves to do something so magnanimous as to clean the gravestones of total strangers, that is truly remarkable! We can be proud that there are still people in this country who have an appreciation for America's fallen veterans and are willing to honor them in such a special way. Thank God for such as these!
Source: Mad World News