The situation in Afghanistan and the rest of the Middle East grows very dire, as ISIS works to expand it's power throughout the area by causing as much havoc, anarchy, and terror as they can get away with.
Their methods of choice are usually the individual suicide bomber and the car bomb which is rammed into it's intended victims and exploded with the intention of killing as many innocent people as possible.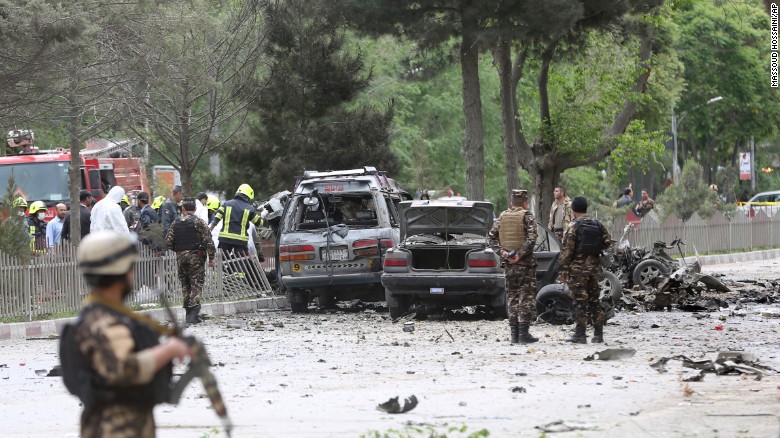 A NATO convoy in Kabul, Afghanistan was attacked with a car bomb filled with explosives, causing the deaths of eight civilians and wounding 28 others, which included three coalition soldiers.
CNN reported:
A car bomb targeting a convoy of foreign troops exploded near the US Embassy in Kabul on Wednesday, killing eight people and wounding 25 others, an Afghan official said.
Three U.S. troops were among the wounded, a US military official said. The blast hit at 7:55 a.m. (local time) in Kabul police district 9, near the embassy and Supreme Court, according to interior ministry spokesman Najib Danish.
The convoy targeted was mine-resistant and can withstand ambushes, coalition officials tweeted. ISIS claimed responsibility for the attack. In a statement posted by its media arm Amaq, the terror group said one of its members targeted "a column of American forces."
The statement included a photo of the man it said was the suicide bomber.
And via The Washington Post:
The Islamic State asserted responsibility for the attack, which occurred at rush hour on a crowded boulevard a few hundred yards from the U.S. Embassy and several Afghan government ministries.
A news agency affiliated with the militant group claimed the attack killed eight American troops. But officials with the U.S.-led international force here said that no coalition troops were killed and that the injuries to the three soldiers were "non-life-threatening." Several injured civilians, however, were reported to be in critical condition.
The explosion shattered glass in numerous buildings and left several disabled and damaged vehicles stranded along the busy thoroughfare.
A smoldering, partially crumpled minivan at the site was reported to be the vehicle used in the blast.
We're prayerful this incident isn't a harbinger of escalating hostilities in the area but, realistically speaking, we already know that it's what ISIS wants.
Terrorism is mindless, senseless violence for no other reason than to spread fear and panic. This is what our former president, Barack Obama spent our money on and supported. There is no doubt that none of it would be happening if he hadn't "accidentally" allowed millions of dollars in American arms, equipment, and supplies to reach ISIS.
We hold him personally responsible!
Sources: CNN/Washington Post