Being a Border Patrol agent may be getting a lot riskier than it was during former President Obama's oversight. Back then, agents were instructed to do little more than watch the flow of illegals crossing the border and confiscate a shipment of drugs every so often.  It was basically a revolving door policy, as illegals came and went as they pleased.
With a new border control policy under President Trump, extra border agents are needed now more than ever before to deal with the criminal types still conducting business, desperate to get into the US where the money is. And border agents are now becoming direct targets of criminal illegals, just because they are now enforcing laws as they should under a new administration.
As of June 9, the FBI is looking for a Mexican national, Sergio Ivan Quinonez-Venegas, who kidnapped and severely injured a border agent. This agent was found lying alongside an El Paso roadway. Quinonez-Venegas is an offender that has been deported three times without prosecution, and is believed to have connections with Mexican cartels.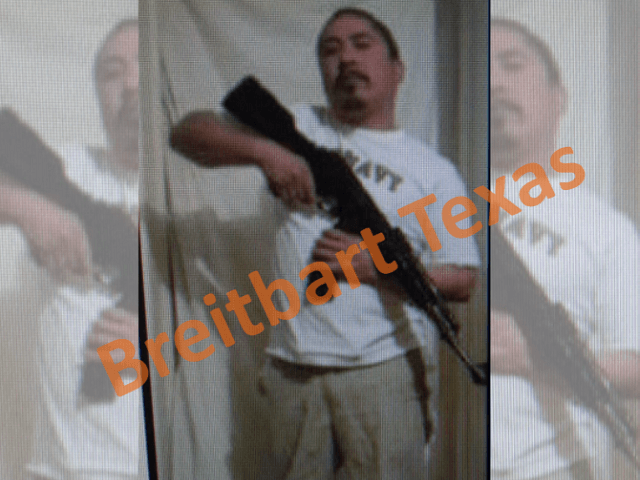 Via Breitbart:
The FBI is searching for a suspect in the matter of a U.S. Border Patrol agent who was found severely injured on the side of an El Paso Sector roadway after having been kidnapped. A leaked official document and a variety of sources reveal the name and birth date of the suspect and two images of the man. Sources operating under the umbrella of Customs and Border Protection (CBP) reveal the man is believed to have been deported three times prior, each time being allowed to leave the U.S. voluntarily without legal consequences. The suspect is also believed by sources to have connections with the Juarez Cartel, or its enforcement arm, La Linea.
A BOLO was issued to federal agents along the border revealing:
(U) Sergio Ivan Quinonez-Venegas is wanted for questioning in connection with the kidnapping and assault of an off-duty Border Patrol agent that occurred on the evening of June 9, 2017.
(U) Quinonez' date of birth is 01/25/1984. Quinonez has a possible criminal history of aggravated assault with a deadly weapon.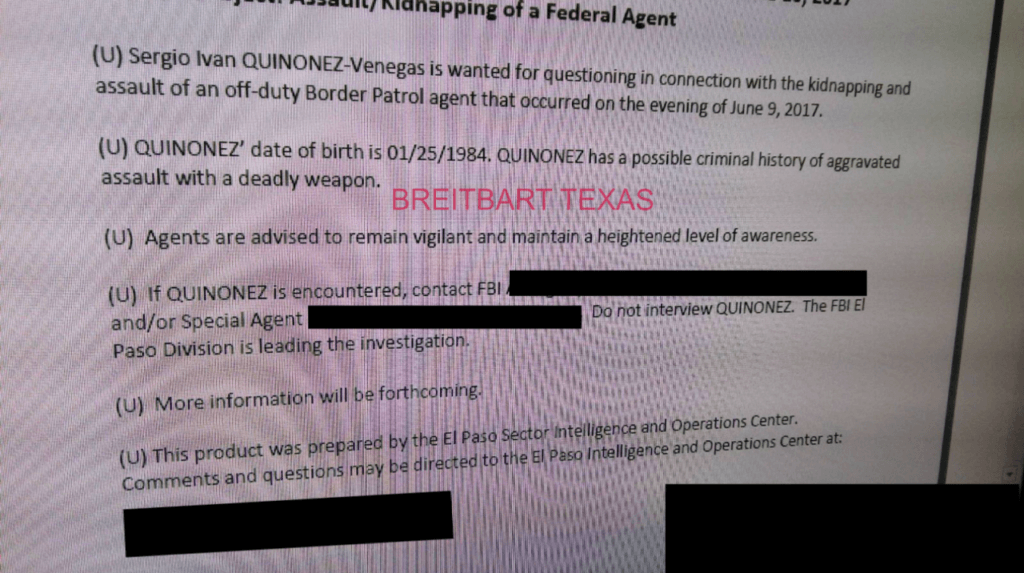 It is important to note that the suspect's alleged connections to a Mexico-based criminal group do not mean that the cartel sanctioned the kidnapping or assault. The fact that a suspect was so quickly identified lends to the idea that the victimized Border Patrol agent was possibly able to provide the identity of his alleged captor — a possibility that raises concerns in itself. It is also important to note that such a personal attack on a U.S. federal agent would be out of character for Mexico-based criminal groups. In such cases, it is usually a criminal acting on their own. In these cases, the criminal usually flees back to Mexico and the dominant cartel in the region usually murders the suspect for inviting "heat" or an increased U.S. law enforcement presence, as the death of the suspect is the cartel's only chance at keeping their trafficking corridor open.
Whether or not the suspect was acting alone, independent of a Mexican crime cartel is merely speculation. This whole incident could have been the cartel's way of warning border agents to "back off or face the consequences."
Either way, the seriousness of building the wall and getting control of America's southern borders is of primary importance.
Source: Breitbart