Awards are usually given for great achievements or as special recognition for service to humanity rendered by a selfless individual. But times, they are a-changing, and people who have done absolutely nothing worth recognizing them for are now getting them.
Like Barack Obama getting a Nobel Peace Prize for being the first black president.
And now, Black Lives Matter (BLM) will be receiving the 2017 Peace Prize Award from Australia's Sydney Peace Foundation in November for supposedly "peaceful and non-peaceful protests in countries around the world, including Australia."
From The Blaze:
The Sydney Peace Foundation in Australia announced Monday that it will award its 2017 peace prize to Black Lives Matter.
The group, which is known for its peaceful and non-peaceful protests in countries around the world, including Australia, will accept the award on Nov. 2 at the city of Sydney Lecture and Award Ceremony at Sydney's Town Hall, according to the Sydney Peace Foundation's website.
"In 2014, Black Lives Matter emerged as a global phenomenon when the hashtag #BlackLivesMatter turned into a rallying cry for a new generation of civil rights activists and organizers. A movement swept across the United States, affirming black humanity in the face of relentless police brutality, mass incarceration, and racial disparity," the foundation stated, noting that the movement's reach extends far beyond the U.S.
"Built and sustained by many, the Black Lives Matter Global Network (BLM) has played a vital role in growing the Movement for Black Lives, and its loud calls for justice, dignity and equality have resonated around the world," the foundation said.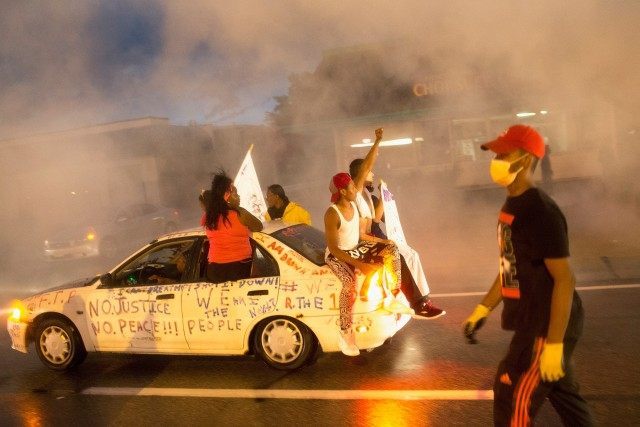 Calling the decision to present the award to Black Lives Matter "timely," the Sydney Peace Foundation website stated it was the first time a group has been recognized:
Climate change is escalating fast, increasing inequality and racism are feeding divisiveness, and we are in the middle of the worst refugee crisis since World War II. Yet many establishment leaders across the world stick their heads in the sand or turn their backs on justice, fairness, and equality.
Opal Tometi, co-founder of Black Lives Matter stated:
"Accepting this award is about our people on the ground striving for justice every single day," Tometti said. "It's truly meaningful to be recognized in this way. We'll continue to push forward until structural racism is dismantled and every black life matters. "It's our duty in times like this to keep our eyes steadfast on the freedom we deserve," Tometti said.
Americans have no need to be reminded of how violent and destructive Black Lives Matter has been since it's creation in July of 2013. The wanton looting and destruction of businesses in their own neighborhoods revealed the evil nature of the group. They're not here to fight for the good of society. They're here to complete Barack Obama's mission to fundamentally transform America!
But, transform it into what? Complete and utter chaos, where the rule of law no longer exists.
Source: The Blaze