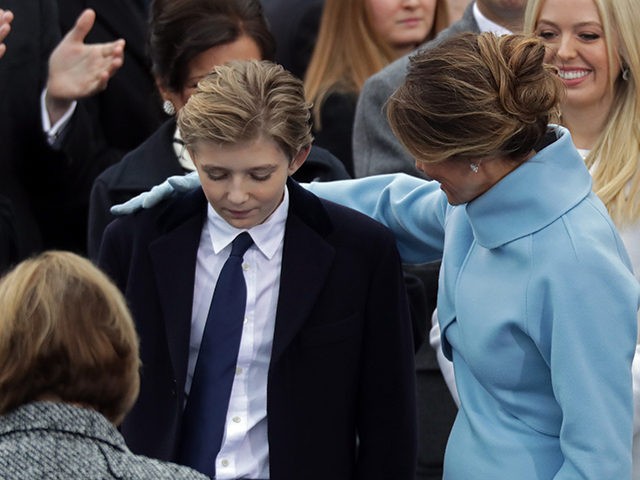 Liberal entertainers can be really nasty towards people with whom they disagree politically, and frequently they put their foot right smack dab in their mouths before they've engaged their brains.
On top of that, it gets even worse when such liberal 'adults' say heinous things about the children of political officeholders.
This was the case when Katie Rich, a writer for Saturday Night Live (SNL), tweeted a disparaging remark about Barron Trump, the young 10 year old son of President Donald Trump.
Breitbart revealed:
Saturday Night Live writer Katie Rich has been suspended indefinitely from the program after posting a tweet Friday mocking Donald Trump's 10-year-old son, Barron Trump.
A source close to the long-running variety show told the New York Times that Rich's suspension is "indefinite." The writer's name did not appear in the credits of Saturday night's episode, which was hosted by comedian Aziz Ansari.
"Barron will be this country's first homeschool shooter," Rich tweeted on Friday, before later deleting the message and deactivating her Twitter account.
On Monday, Rich reactivated her account and posted an apology: "I sincerely apologize for the insensitive tweet. I deeply regret my actions & offensive words. It was inexcusable & I'm so sorry."
Rich's tweet came as President Trump has sparred with Saturday Night Live over the program's portrayal of him. Actor Alec Baldwin has played Trump on the show since shortly before Election Day, and even brought his impression of the president to a protest rally outside Trump Tower in Manhattan on Thursday. Trump has previously called the show "not funny" and a "complete hit job."
I have to agree with Trump on this one since SNL has recently become less funny, more politicized, and jumped onto the anti-Trump bandwagon with the rest of the liberal world.
Like spoiled children with their electronic gadgets and instant gratification of every possible want, liberals have grown up getting their way. Now that someone has said "NO" to them, they will holler and scream and cry and wail about it until mom gives in and lets them have what they want.
But in this case, it's going to be a long wait! Boo! Hoo!
Source: Breitbart