Rahm Emanuel, ex-White House Chief of Staff under Obama, and now mayor of Chicago, a place where both he and Barack Hussein Obama cut their political teeth in the rough-and-tumble Chicago Way. When Obama vacated his senator's seat by winning the presidency, the governor of Illinois, Rod Blagojevich, was then indicted for trying to sell his senate seat to the highest bidder.
Both Illinois and Chicago are rife with corruption and turmoil, and it made sense that someone of Rahm Emanuel's status would take the job as mayor. Only someone who had connections to Obama would be corrupt enough to take on a job as unseemly as this. In his bid for relevance in the wake of some horrible situations where Black Lives Matter was having constant run-ins with police, as well as a series of gang-related shootings at police officers where they employed AK-47s, the mayor was in a bind.
To ingratiate himself to the public, a largely Liberal public who were tainted by the sick and depraved political platform of the Democrats, Rahm did what any Leftist mayor would do in his situation: He bowed to the illegal alien crowd and claimed he would protect them from deportation. Now, Emanuel is shocked to find that the Trump administration called him on his bluff and is withholding federal funding from the city of Chicago for violating federal immigration laws and not cooperating with ICE agents!
The Daily Caller:
Attorney General Jeff Sessions had harsh words for Chicago Mayor Rahm Emanuel on Monday after he and other city leaders announced a lawsuit against the Justice Department over its policy regarding so-called sanctuary cities.
"They have demonstrated an open hostility to enforcing laws designed to protect law enforcement — Federal, state, and local — and reduce crime, and instead have adopted an official policy of protecting criminal aliens who prey on their own residents," Sessions said in a surprisingly combative statement.
"No amount of federal taxpayer dollars will help a city that refuses to help its own residents," he added.
Last month, Sessions announced that cities will have to meet certain compliance standards in order to receive funding through the Edward Byrne Memorial Justice Assistance Grant, known as JAG.
Chicago received $2.3 million through the program last year.
For cities to receive the grant in the future, Sessions stipulated that they must comply with certain requests from federal immigration agencies.
Local officials, including police officers, would be required to provide information about illegal aliens as well as allow federal immigration agents into local jails. Local officials would also be required to give the Department of Homeland Security at least 48 hours' notification before releasing illegal aliens wanted for deportation.
In his response, Sessions tied Chicago's immigration policies to its astronomical violent crime rate.
"To a degree perhaps unsurpassed by any other jurisdiction, the political leadership of Chicago has chosen deliberately and intentionally to adopt a policy that obstructs this country's lawful immigration system," he said.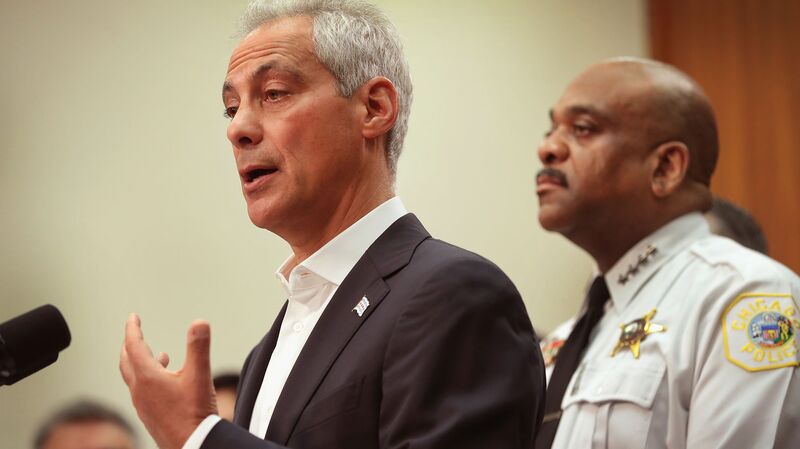 "This is astounding given the unprecedented violent crime surge in Chicago, with the number of murders in 2016 surpassing both New York and Los Angeles combined. The city's leaders cannot follow some laws and ignore others and reasonably expect this horrific situation to improve."
Sessions went on to claim that Chicago's crime problem could be fixed by "a re-commitment to the rule of law and to policies that rollback the culture of lawlessness that has beset the city."
Other cities whose JAG funding is threatened by Sessions' requirements are expected to sue the Justice Department.
There was some scuttlebutt for a while that Mayor Emanuel was scoffing at the idea that the Trump administration would be able to stop funding to Chicago because of constitutional issues, but that will be up to authorities above the mayor himself to decide.
As for Rahm Emanuel, he violated one of the old truisms of the Chicago Way: He brought a knife to a gunfight.
Source: The Daily Caller