It's not a job for the faint of heart. Nor for those who are afflicted with claustrophobia. Yet for those who can get the job done, the result can be an incredibly effective means for moving people, contraband, weapons, and drugs. Of course, the subject is tunnels.
Vietnam veterans can testify to the terrible consequences an effective and intensive network of tunnels can create. So can our law enforcement agents working the Mexican border. Not only can drugs and weapons be smuggled through these tunnels, but so can illegal migrants. So once you've got a tunnel going with both ends well-concealed, the financial returns can be terrific.
A tunnel used to smuggle illegals from Mexico to San Diego was recently discovered. Border Patrol intervened and captured and arrested 30 illegals. That's not a job for the faint of heart, either.
"U.S. Customs and Border Protection (CBP) agents in San Diego discovered a smuggling tunnel early Saturday after arresting dozens of illegal aliens near the border.
"In the early morning hours on Saturday, CBP agents encountered several people near the Otay Mesa port of entry who had just been smuggled into the U.S., the CBP announced in a statement.
"Agents searched the area and stumbled upon a 'crude opening' in the ground with a ladder inside that the agents quickly determined was a smuggling tunnel.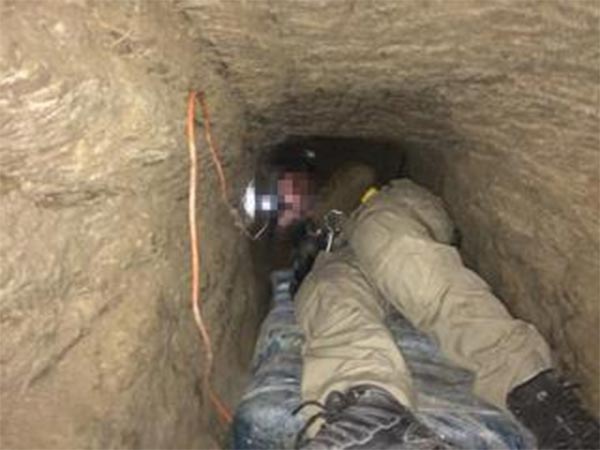 "Agents arrested a total of 30 illegal aliens, 23 Chinese nationals and seven Mexican nationals, 25 of whom were men."
As pointed out, it's not just illegal migrants who can be smuggled through these tunnels.
"What concerns U.S. officials about human smuggling tunnels is that they leave the U.S. particularly vulnerable to infiltration by Islamic terrorists and other dangerous criminals.
"Since 1990, U.S. officials have discovered over 225 Mexican cartel tunnels along the U.S. border, with the longest tunnel measuring over 800 yards long."
And not only Islamic terrorists, but no doubt the weapons or devices they might use in future terror attacks can be transported through these tunnels as well.
Constructing 225 tunnels up to 800 yards long is no small task. Think of the revenue the cartels must be making from the use of these tunnels. And those are only the ones that have been discovered. You have to wonder how many others exist and are being used or are otherwise under construction.
Unfortunately, this is not a problem that a border wall will solve. Where there are profits to be made from crime, there will be criminals who will seek to take advantage of every opportunity they can find or create.
The search for these tunnels might be aided by some sophisticated technology, but when it comes time to act, it will be our Border Patrol agents who will have to make things happen. They deserve our gratitude.
Source: Daily Caller