In Europe, there is always a way for the globalist "no-borders" people to find a way to sneak in their agenda through nefarious agreements and treaties that hog-tie European leaders to a point where they have no choice but to accept the unfair (and dangerous) circumstances. Although there are some leaders there who are part and parcel, pure representations of the globalist New World Order clique, there are many more who are not about to toe the borderless line.
In Austria, Denmark, Norway, and parts of the Eastern bloc, leaders and legislators are a bit more lucid on what needs to be done to protect not only the safety and sovereignty of their nation, but their absolute culture and heritage as well. In so many cases, Europeans are giving up everything they are and were in order to placate the excessive refugee and immigration programs of the globalists.
In Hungary, they have followed suit with the Polish, who have decided that enough is enough and they've put up border fences and walls wherever possible in order to assuage the amount of illegal overflow into their countries. Their walls have ended the journey of over 400,000 illegals who had every intention of entering their lands and heading straight to the government coffers!
Conservative Tribune:
Liberals have long insisted that President Donald Trump's promised border wall would not work for a number of reasons. Namely, that it would be impractical, inefficient and it would simply cost too much to build the kind of wall the president wants to build.
While the left has done nothing but complain about Tump's border wall, something awesome has happened in Hungary, and it explains how a border — any kind of border — works to some degree.
In 2015, Hungary responded to the surge of migrants with a border fence. Nothing fancy — just a double fenced topped with barbed wire with armed security. Believe it or not, that was all it took to begin to see an almost immediate drop in the number of immigrants attempting to cross the border.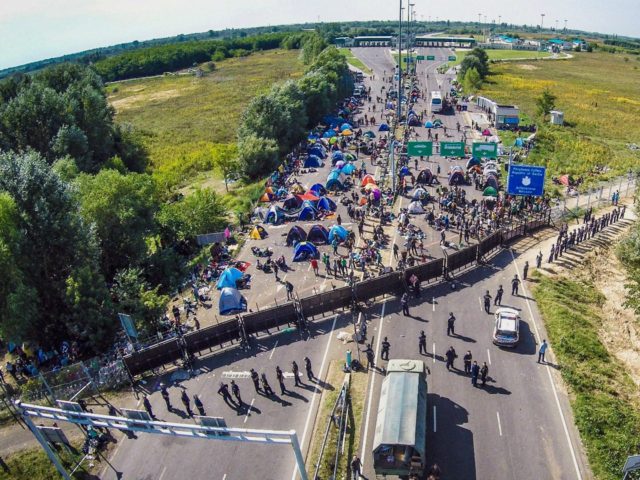 Prime Minister of Hungary Viktor Orbán decided he would do whatever it took to protect his country, and it worked. His fences amounted to a reduction in illegal crossings to the tune of 99 percent.
Speaking on the second anniversary of the government's decision to place a border between Hungary and neighbor Serbia, Orbán's Chief Security Advisor György Bakondi announced that the fences have resulted in a drop of nearly 400,000 illegal immigrants in 2015 to 1,184 so far this year.
That's an incredible number, and one that was achieved without breaking the bank.
And here's the proof that if there is no insidiousness to an honest reformation of the immigration system here in the US, why does the opposition insist on illegals' continuance of law-breaking while the broken system is repaired?
Walls and fences do their job…and that's the bold truth.
Source: Conservative Tribune