If Liberals think that they are upset now with having President Trump as their leader for the next four, possibly eight years, this latest news will more than likely send them over the edge.
Liberals have been fighting President Trump's agenda tooth and nail. Despite all of the protesting and distractions on the media, the president has been already able to accomplish a lot of good things.
But tomorrow, tomorrow is the day that the radical Left will completely flip their lid, as the White House will be presenting their budget proposal for the House and Senate to review and approve. The budget includes $1.7 TRILLION of entitlement cuts. TRILLION! Americans will be thrilled to see this happen, and not only that, we can finally see what a balanced budget will look like!
From The Daily Caller:
As Donald Trump continues his first overseas trip as president, his White House staff is expected to announce a new budget proposal featuring $1.7 trillion in cuts to mandatory entitlement programs.
The plan, which White House officials told Axios will come Tuesday, will reportedly place an "emphasis on work requirements for able-bodied people" receiving benefits from programs including but not limited to the Supplemental Nutrition Assistance Program (SNAP), Children's Health Insurance Program (CHIP) and Social Security Disability Insurance (SSDI).
Though the administration's proposal keeps Trump's campaign promise to preserve funding for Social Security and Medicare, the entitlement cuts could split the party along the same lines drawn during the healthcare debate.
"Conservatives will love it," one Trump official said of the proposal. "Moderates will probably hate it."
The Washington Post reports that Trump's budget will balance over 10 years but hinges on two major assumptions.
Firstly, economic growth must proceed at 3 percent yearly — as opposed to 1.6 percent in 2016 — and secondly, Trump must sign the Affordable Health Care Act into law.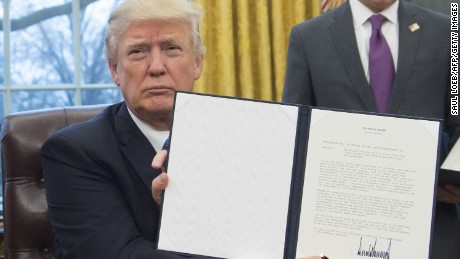 Although we have seen the House and Senate falter on issues, this budget should be something that everyone can agree on. Americans know and understand that some entitlements are necessary to help our fellow neighbor push on temporarily, but we also know that abuse of the system has gone too far.
Thanks to President Trump, he will ensure that there will be no abuse of any government systems, and along with his signing of the new health care bill (hopefully soon), we are well on our way to seeing America made great again!